APRIL 2021
There's a series currently running on Sky Arts TV -
Fake! The Great Masterpiece Challenge
- where a copy of a masterpiece painting is hung for a few weeks in a public gallery in place of the original. The public are challenged to spot the copy, with interesting results. Once the truth is revealed, the original is put back and the copy is then safely stored away.
Artwork is copied all the time, by students, by forgers, and so on. I was surprised however a few years ago, to find a copy of one of my still-life paintings on the website of an artist with no acknowledgement to me. It's no longer there I'm happy to say. Can you guess which is which?
FEBRUARY 2021
Here's the story behind my seven-apples painting and a nod to a post-impressionist painter.
I often visit the Fitzwilliam Museum in Cambridge, (alas closed at present), where the art collection includes some wonderful Impressionist and Post-impressionist paintings. I always take the opportunity to visit Cezanne's little Apples painting and marvel at its simplicity. So, when I found a new apple called Kanzi, so colourful that I had to paint them, I borrowed Cezanne's composition. No attempt to copy his style, but I call the picture "Apples, a Conversation with Cezanne".
I think I got there just in time, because Kanzi apples seem to be hard to find in my locality now.
Here's my painting. Cezanne's version is easily found online.
JANUARY 2021
One of my favourite colours is one that I find many artists have not discovered. Yet it is not new and was used by many great artists, including the old masters and Turner and Van Gogh. Indian Yellow. Do we need this colour when Cadmiun Yellow (or the like) and Lemon Yellow usually suffice? Indian Yellow is different: it is a rich golden yellow and it is transparent. As a painter in oils I sometimes use a glaze of Indian Yellow to impart a golden glow as in the painting below. And it makes wonderful mixes with white and other colours. I don't use it all the time, but I wouldn't be without it.
A bit of research reveals that different colour makers use different pigments to make this colour and some makers don't list it at all. Look for a transparent golden yellow if that's the case.
DECEMBER 2020
I painted this wintry view of Cromer for a Christmas card a few years ago. I framed the painting and exhibited it a few times - but no sale. Then I decided to 'melt' the snow and - it soon found a buyer...
NOVEMBER 2020
Don't use long words when shorter ones would be better! I was reminded of this whilst tutoring an all day workshop on still life painting. Artists were working hard as I moved round the studio giving advice and tips. One artist in particular was paying careful attention to drawing her composition before starting to paint. I remarked "Your draughtsmanship is immaculate". "What !?" was the reply. "Immaculate", I repeated. "Oh, I thought you said 'inaccurate'..."
Is good drawing still important in today's art world? I think it is. But as a former map maker I guess I would say that.
The time I spent on the drawing below paid dividends at the painting stage.
OCTOBER 2020
I don't mind an audience when I'm painting and on a number of occasions I've been the 'in-house' artist at the Suffolk Show Art Show. Visitors' comments are mostly kind, sometimes amusing. Which reminds me of a tale from an artist friend, recalling the summer day he set out to paint a Landscape in the countryside. He'd been working for a short while when a couple of passing strollers paused to watch. As they moved on, one was heard to mutter "That's rubbish, I could do better than that!" A few hours and much progress later the same couple passed by on their return journey. This time the 'critic' remarked "Oh that's good, he's much better than the man who was here this morning!"
Here's one of mine (not a landscape) in early stage and complete.
SEPTEMBER 2020
It's a while since I painted a watercolour, and looking through my archives I unearthed a couple I did many years ago, the view of Crown Street Bury St Edmunds as long ago as 1983. The view of Staithes is more recent, and I have since painted a version of this in oils. Here are the two watercolours.
AUGUST 2020
Looking for a painting for a newly-decorated room, a buyer found one of my Marbles paintings in a Suffolk gallery. There was some hesitation however - would it fit in with the decor?
I never discovered the details of the colour scheme - but the painting was bought !
Which prompts the debate: should a picture merge with its surroundings - or stand out and be noticed ?
JULY 2020
From time to time I'm asked to write a piece which is sometimes called an "Artist's Statement". I notice that some artists seem to like a well-worded "statement", for instance, I found this one:
"X's paintings explore abstraction through colour, light and surface; work combines inner and outer worlds, with conscious and unconscious elements. Sometimes emerging from experiences of place and walking, the paintings convey a sensory experience whilst also being concerned with the materiality of paint and process. The scale is often intimate, working 'face to face' with the viewer and there is a sense of touch rather than gesture".
I couldn't make sense of the paintings either ....
I just echo Renoir's words: "I have a predilection for painting that lends joy to a wall"
Here's something simple.
JUNE 2020
Framing my paintings.
It's often said that a good painting deserves a good frame (and a bad painting needs one !!).
My framer makes my frames for me in an unfinished sculptured moulding and I apply the finishing by hand in a style and neutral colour that fits in with any room decor.
MAY 2020
Painting Strawberries.
I just finished this little painting (oils 12 x 17 cm).
Strawberries are not particularly difficult to paint - the shapes are easy to draw and it's hard to get the colours wrong; they come in many different shades of red.
Here I used cadmium yellow, cadmium red and alizarin crimson, with a touch of cadmium red-deep to reinforce the shadowed parts.
When quite dry I added the pips; nature arranges them in a fairly organised pattern so it's worth a bit of care to get them looking right.
Finally, the highlights in white bring the berries to life.
APRIL 2020
Exhibitions and galleries have suspended activity for the time being and I may not be exhibiting again until 2021.
The Suffolk Show: The celebrated Art Show within this annual event is a draw for many art lovers and buyers.
I will have new paintings ready to go for next year's show, 2-3 June 2021.
Meanwhile I am painting at a leisurely pace. Here are a couple of new still-lifes.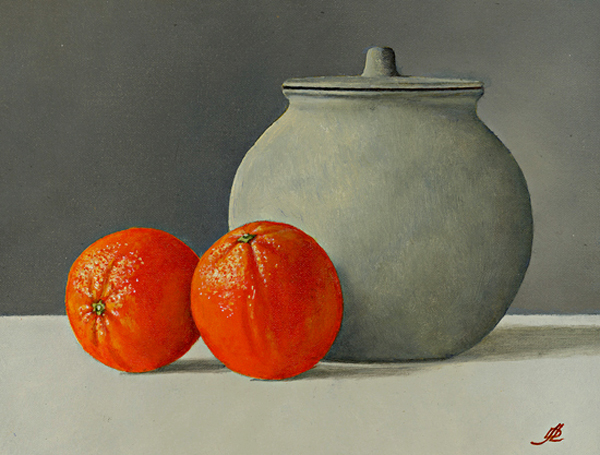 .